Teflon ultra-high temperature cable PTFE wire extruder production line machine
Product Detail
Product Tags
Comments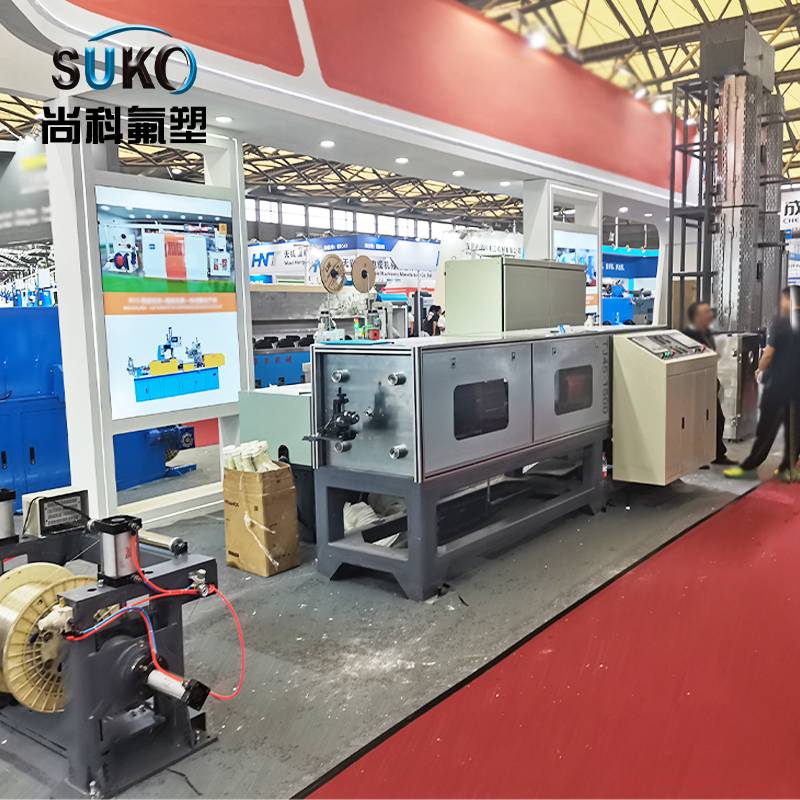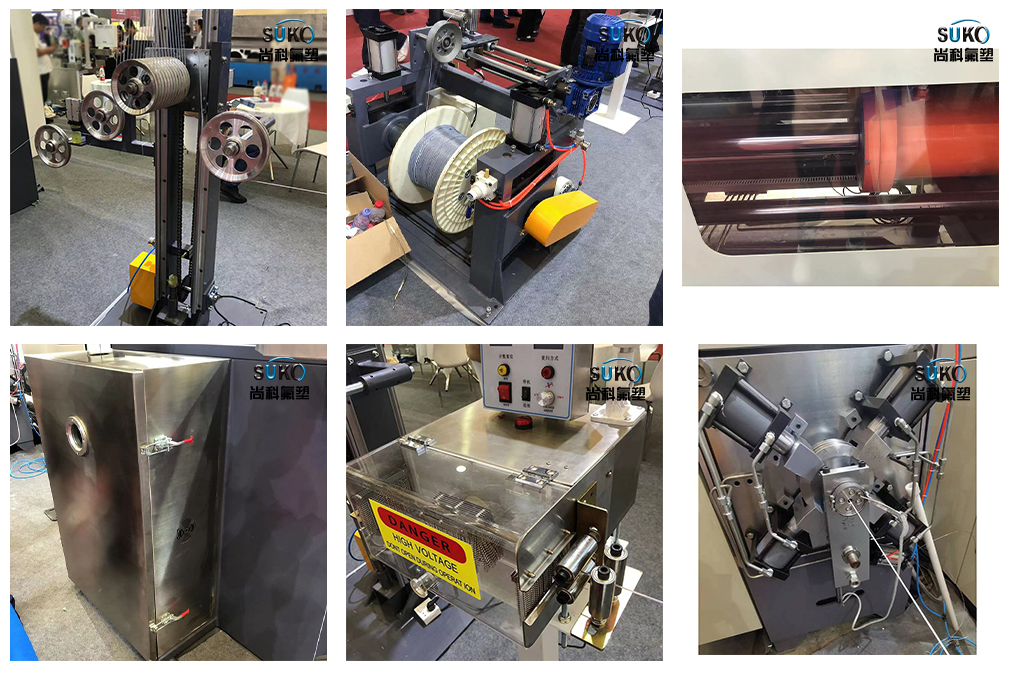 SPECIFICATIONS
Machine model
Pay-off line type
Pay-off bobbinsize
Screw diameter
Main unit power
Wire spec.
Cooling device
Accumulator capacity
Capstan power
Wire speed
Take-up line type
Receving reel
Take-up line power
ZY-STJ-35
Double axes
PN400-630
∅35
4KW
∅0.8-2.0
Single layer
30
1.5KW
20m
Axis packing
PN400-630
1.5KW
ZY-STJ-45
PN400-630
∅45
4KW
∅1.5-3.0
1.5KW
20m
PN400-630
1.5KW
ZY-STJ-60
PN630-800
∅60
4KW
∅2.5-5.0
2.2KW
15m
PN500-630
 2.2KW
ZY-STJ-80
PN400-630
∅80
5.5KW
∅4.0-6
2.2KW
12m
PN500-800
 3.7KW
ZY-STJ-90
PN630-800
∅90
5.5KW
∅5.0-8
3.7KW
8m
PN630-1000
 5.5KW
ZY-STJ-100
PN400-630
∅100
7.5KW
∅8.0-12
5.5KW
8m
PN800-1250
 5.5KW
ZY-STJ-120
PN400-630
∅120
7.5KW
∅10-18
5.5KW
5m
PN800-1250
 5.5KW
Teflon high temperature wire extruder production line machine consists of several main components:
Pay-off frame: used to place the reel or reel of Teflon material so that the material can be introduced into the extrusion host.
Extrusion host: the main equipment, which heats and melts the Teflon material through heating and screw extrusion, and extrudes the molten material into a cable with the required shape and size.
Pulling machine: used to pull the extruded Teflon cable to keep it at a stable speed and tension, and to help cool it down.
Wire Storage Rack: Used to collect and reel extruded Teflon cables.
Spark testing machine: used to detect whether there are defects or damage on the surface of the extruded cable.
Meter Counter: Used to measure and record the length of extruded Teflon cables.
Coiling machine: used to wind the extruded Teflon cable into a drum or coil for subsequent use.
Electric control box: an electrical control system that controls the work of each component, and is used to adjust parameters such as extrusion speed and temperature.
These components work together to enable the extrusion line to efficiently and stably produce high-quality Teflon high-temperature cables.
---
Previous:
SuKo medical ptfe Multi-Lumen Tubing
Next:
---
Write your message here and send it to us