Currently, because of the excellent performance of PTFE tubes, the use of PTFE in medicine is becoming more and more widespread. Here SuKo introduces the use and principle of Medical Ptfe Multi-Lumen Tubing.
Applications: Its special properties also include a surface structure that is easy to clean. Among other things, the tubes are used for cannulae, catheters, pipettes and endoscopes. Here, spaghetti tubes in so-called single-lumen or multi-lumen designs are used as well as heat-shrinkable tubes. PTFE products can be sterilized using all conventional methods. Because of their heat- and water-resistant and non-toxic properties, Teflon tubes are used as materials for all kinds of medical devices and artificial organs. These include sterilized filters, beakers, artificial heart and lung devices, and artificial blood vessels, hearts, and oesophaguses. There are also vascular interventions, vascular access, endosurgery, CRM, and neurostimulation, including coronary, peripheral, neurovascular, dialysis, intravenous, urology, obstetrics and gynecology, endoscopy, and other medical device applications.
Functionality: Multi-lumen tubing offers a wide range of functionality for a variety of medical device applications. The lumen tubes can be used for wire access, fluids, drugs, balloon inflation/deflation, tip-driven wire pulling, housing electronic sensors, energy delivery (thermal, RF, cryogenic), and many other uses. 
Description: Multi-lumen tubing consists of two or more working channels (lumens) that run the entire length of the catheter shaft. The number, size, and construction of the lumens are limited only by the outer diameter, wall thickness, web thickness, and material.
Tooling, materials, processes, and quality control: In-house design and manufacture of multi-cavity molds ensures quality control and fast response times.
Complex multi-cavity configurations: experienced extrusion professionals understand how to balance the design and manufacturability of medical devices to optimize customer requirements for performance and cost.
Principle:
1. The temperature is below 19°C, so a 13/6 helix is formed; at 19°C a phase change occurs and the molecules unwind slightly to form a 15/7 helix.
2. Mechanical properties: it has an extremely small coefficient of friction, only 1/5 of that of polyethylene, which is an important feature of perfluorocarbon surfaces. Due to the extremely low intermolecular forces of the fluorine-carbon chain, PTFE is non-stick. 
3. PTFE has a low dielectric constant and dielectric loss in a wide frequency range, and a high breakdown voltage, volume resistivity, and arc resistance.
4. The radiation resistance of PTFE tubes is relatively poor and will be subject to degradation caused by high-energy radiation, and the electrical and mechanical properties of the polymer will be significantly reduced.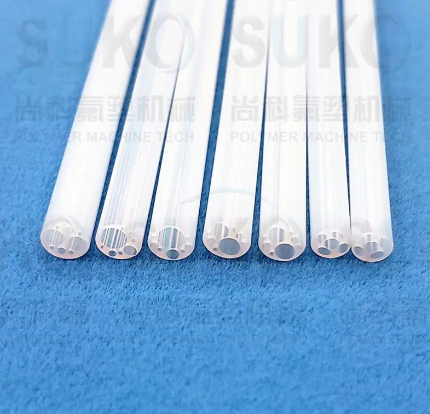 ---
Post time: Nov-15-2022